6 Things Companies Are Doing Wrong Building A Digital Workplace
jknash@x-centric.com
·
3 minute read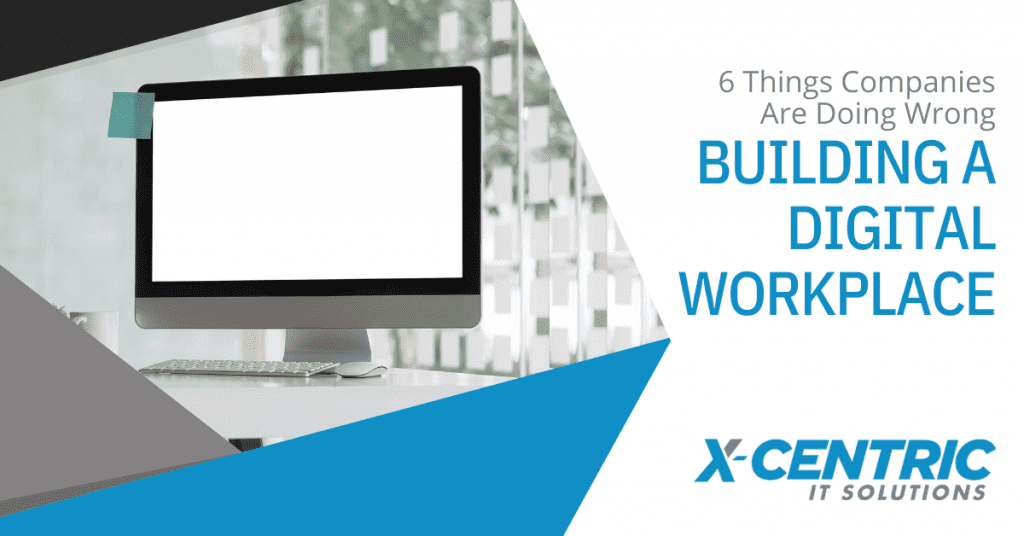 The flexibility of companies that adopt modern workspaces seems very practical and worthy of emulation. This advantage encourages several organizations to replace rigid processes to enhance communication, transparency, and employee collaboration. The goal can be to improve how employees, onsite and remote, identify with the vision and mission of the company.
While the new hybrid office and digital workspace can be exciting and sound great "on paper," getting it to live up to the promises takes work. Not everyone gets it right on the first try. Building a digital workplace requires a lot of preparation and attentiveness.
Fortunately, we want to see your company build a digital workplace and be successful. As such, we have put together a list of things that you should avoid if you intend to achieve a successful transition to a more flexible and optimized environment.
The Challenges of a Digital Workplace
With the outbreak of the coronavirus pandemic in 2020, business leaders came to the reality that there was a need to redefine the modern work environment.
Communication and collaboration tools were used to shape the modern workspace. This included video conferencing tools to enable effective communication across distances and cloud-based apps that facilitate knowledge-sharing among employees.
With these digital tools, people who were not working from the office (remote workers) had their needs prioritized and were integrated into the company's culture.
However, the influx of digital tools introduced to the work environment created productivity issues. Teams lost focus on achieving goals, some employees struggled with switching from one communication channel to another, and valuable time was lost.
Several companies are experiencing difficulties in making the shift that the pandemic introduced work regularly for everyone.
6 Things Companies Should Avoid in Creating a Digital Workplace
1. Failing to conduct a comprehensive assessment of the company's needs
In building a digital workplace, conducting thorough preparation is essential. When done in haste, it may end up in a disaster.
The individuals in charge of the transition may have erroneous conclusions about the needs of some departments against another. The goal is to understand the company's requirements and the software that best serves its needs. It's important to take the time to find the right software solutions for your team, not just the latest thing that's trending.
2. Exempting employees from the plan
One common problem in creating a digital workplace is that employees are often left out of the decisions being made. So, companies end up making decisions on flexibility and company-issued devices that aren't serving their goals well.
If you want a hybrid working environment that is as productive as possible, it's important to get the input of your employees. They can tell you what they need as far as equipment and what their biggest challenges are to productivity when working from home.
3. A complex user interface and inadequate training
Users who do not understand IT products or solutions become less attentive to them. Those new digital tools you brought on might be great, but if you do not provide enough training for the users, the digital workplace won't get very far.
When users do not have anyone to offer IT consulting support, they will struggle with new business apps, which means you're not getting the boost in productivity you were most likely expecting.
In the same vein, even the most dedicated employee will resist the digital platform and return to the old system if there are too many challenges with adopting new tools.
4. Inefficient workflow
When upgrading digital tools, it's the perfect time to optimize processes through automation. Unfortunately, many companies make the mistake of keeping inefficient workflows that slow their teams down. This can include having to re-enter data in multiple apps because those apps aren't connected.
Inefficiencies also come from repetitive tasks that people have to do that could be easily automated instead. When planning to upgrade your technology environment, you should always think about places you can streamline the workflow.
5. The management team is exempted.
The management team is usually involved in the implementation of the digital workplace. However, this does not necessarily mean they are willing to participate in the new interactive culture.
Some managers find it hard to let go of their traditional organizational culture of asking employees to be physically available at the office. For a virtual workspace to be effective, the management team must be actively involved; else, all efforts directed towards its establishment will be in vain.
6. Not Enough Emphasis on Mobile Tools
Did you know that Microsoft now estimates that mobile devices carry 80% of the average company's workload? Companies that are still focused solely on desktop computers and workstations, and not enough on mobile technology can make it harder for their digital workspace to work efficiently.
The result is that collaboration and communication will be complex if the employees are not close to their desktops, this can make it difficult to check in and mean less flexibility to get work done.
Get Your Digital Workplace Optimized With X-Centric
Transition to the new normal of the hybrid working work and do it effectively.
X-Centric IT Solutions provides managed services that align with your company's culture. Contact us at +1-(262)-320-4477 or reach us online.