Microsoft Teams Plan Comparison: Free vs. M365 Business vs. Teams Essentials
Admin
·
4 minute read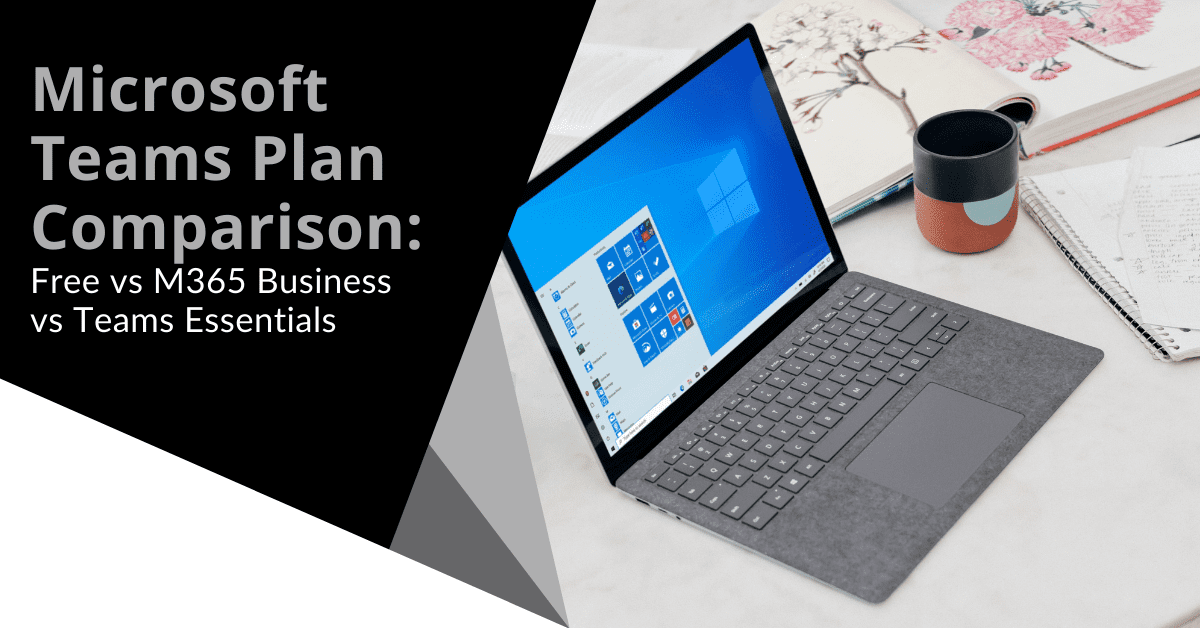 Working remotely, by choice or due to health situations, requires specific needs to be met to ensure productivity. Whether working remotely part-time or full-time, it is important to have a setup that favors working away from the office. In doing so, you can boost your team's collaboration.
A dedicated working area must contain the appropriate equipment such as computing and videoconferencing. Moreover, effective remote work depends on several key factors. These factors range from having a functional workspace to maintaining appropriate communication with your employer.
Particularly, effective communication is pivotal to ensuring a successful remote work environment. Videoconferencing tools such as Microsoft Teams are a great way to maintain effective, two-way communication throughout your day-to-day tasks.
How to Successfully Engage in Remote Work
Successfully working from home is about accessing the right tools. These tools include things such as:
Computer equipment
Communication devices (i.e., phones)
Dedicate work area
Effective schedules
Clear expectations
The most important factor in successful work-from-home schemes is ensuring you have the right setup. Having an adequate workspace takes away needless distractions from your core tasks.
Establish Clear Expectations
Clear expectations are an essential part of team collaboration. Effective teams know what expectations are. Consequently, they can perform up to these established standards. Here are some of the ground rules that make up clear workplace expectations:
Appropriate computer equipment (i.e., computer spec and configuration).
Network usage (i.e., restrictions on the use of public WiFi connections).
Communication technology (i.e., Microsoft Teams).
Information security (i.e., passwords, two-factor authentication, antivirus software).
Secure file storage (i.e., cloud or local).
Good team collaboration depends on clear expectations. Therefore, ensuring that everyone is on the same page leads to achieving collective goals and targets.
Functional Work Area
A functional workspace is critical to successful remote work. If you are working from home, you must ensure a dedicated space. If you do not have a dedicated work area, or if you must move around, it is critical to find spaces conducive to productivity. Ideally, separating personal from work areas is ideal. When personal and work areas mix (such as setting up your laptop in the living room), it might be difficult for you to concentrate.
Also, remember that having a comfortable desk and chair can go a long way to boosting your overall productivity. Work with your company to negotiate the purchase of ergonomic equipment. If your employer is unwilling to pay for ergonomic furnishings, you may be able to partial support.
The Right Internet Speed
Having the right internet speed is a highly important factor in successfully working from home. The right internet speed becomes even more important when kids log on to your network. Most companies help their employees pay for internet speed upgrades. So, it is certainly worth asking about it.
Please bear in mind that companies using apps such as Microsoft Teams need a solid internet speed for smooth videoconferencing capabilities. Since team collaboration depends on communication software tools, it makes sense to boost your internet speed.
Use Appropriate Software and Apps
Effective team collaboration hinges on using the right software and apps. Apps such as Zoom, Slack, and Trello facilitate team collaboration and communication across the board. However, Microsoft Teams is an effective tool you cannot miss.
Microsoft Teams aims to boost team collaboration by providing the tools your team needs to communicate remotely. In fact, Microsoft Teams has become one of the most popular remote working tools. In 2021, roughly 270 million users worked with Microsoft Teams in their respective organizations.
With such impressive reach, it is worth taking a closer look at Microsoft Teams.
What Is Microsoft Teams?
In short, Microsoft Teams is a videoconferencing, communication, and team collaboration software tool aimed specifically at remote work teams. Professionals who work from home use Microsoft Teams to communicate with their peers worldwide. Microsoft Teams has become a trusted, go-to option on par with many other remote work software solutions.
What Are the Benefits of Microsoft Teams?
Microsoft teams offers the following key benefits:
Microsoft Teams smoothly integrates with Office functions. Moreover, Microsoft Teams works seamlessly with Office online features such as SharePoint.
Microsoft Teams works very well with online browsers such as Google Chrome. Therefore, there is no need to use Explorer to get the full range of benefits.
Microsoft Teams can work as a standalone communications tool with videoconferencing and chat capabilities. Thus, there is no need to use Microsoft Teams for every aspect of your organization's tasks.
Microsoft Teams facilitates file sharing and document management. Its integration with Gmail and Google Drive makes for a smooth document management experience.
Microsoft Teams works well on mobile devices. As such, it is a good on-the-go communication solution.
Microsoft Teams Price Comparison
Microsoft Teams offers several pricing options. This feature is a great alternative for organizations looking to optimize their budgets. Here is a look at how Microsoft Teams pricing stacks up:
| | | |
| --- | --- | --- |
| Plan | Features | Price |
| Free | Free access to videoconferencing, screen sharing, and customized backgrounds. Free plan caps at 500,000. Perfect for small businesses and startups. | Free per user |
| Basic | Provides all functions of the free plan. Removes limits on videoconferencing, allowing for 24-hour meetings. Users can record meetings and receive improved customer support. | $5 / month per user |
| Standard | Builds on the free and basic plans. Offers access to productivity apps, dedicated business email, and increased storage capability. | $12.50 / month per user |
| Office 365 E3 | Essentially removes all limits. Allows for more than 500,000 users and extensive storage capacity. Ideal for large corporations. | $20 / month per user |
The Verdict
Remote working is here to stay. Whether folks choose to work as a personal choice or for health reasons, it makes sense to embrace remote working tools. Microsoft Teams provides a suitable alternative for organizations of all sizes. With flexible plans (including a free one), Microsoft Teams delivers the capabilities that most organizations need without paying a high cost.
A good rule of thumb is to start with the free Microsoft Teams plan and work your way up. As your team's needs grow, you can upgrade your plan accordingly. Best of all, Microsoft Teams offers an all-in-one solution. Therefore, investing in a solution that offers the capabilities and flexibility that growing teams need, especially when collaborators work in different locations and time zones.